The Dordogne department, named after its majestic Dordogne river, is home to an enchanting mix of picture-perfect villages and rolling vineyards…
Dordogne's vineyards occupy the south-western corner of the region surrounding the town of Bergerac. The vineyards carpet the countryside around the town, spreading up the north and south-facing banks of the river.
With 7 main AOPs (Appéllations d'Origines Protégées) and more than 900 wine-growers who cultivate over 12,000 hectares, the choice is broad, making the region a treasure trove for wine lovers. 
Bergerac Wines are made with great attention to detail due to small family-run or independently owned vineyards.  What's more, there is an emerging scene of new generation, creative winemakers who are keen to push the boundaries of traditional wine making. Remaining respectful to their heritage, they are also keen to look forward. Many follow organic, bio dynamic and natural wine making philosophies and experiment with new ideas and techniques to produce reimagined versions of the classics.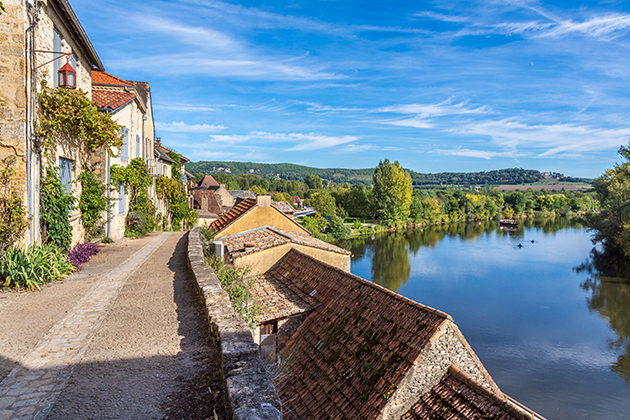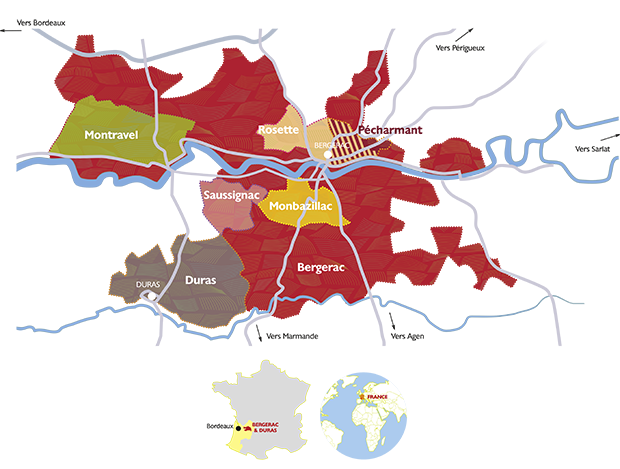 The red grapes grown in the region are Cabernet Sauvignon, Merlot, Cabernet Franc, Malbec, Fer Servadou and Merille.  The skilful blending of red grape varieties leads to the creation of intense, full-bodied wines, some fruity and round, others spicy and complex.
The white grapes are Sauvignon Blanc, Semillon, Muscadelle, Ondenc, Chenin Blanc and Ugni Blanc.  Bergerac whites range from dry, crisp and refreshing to aromatic, lingering and gently sweet.
The 'noble rot', (botrytis cinerea) created by late autumn mists ensures medium-sweet or sweet wines that are rich, liqueur-like and intense and are recognised as amongst the best in the world.
On our private tours, we showcase the contrasting wine appellations, with many tastings, to enable you to better understand the region. 
It's good to know that the local wines pair perfectly with the abundant local fare.  Perigord gastronomy is recognised as amongst the best in France: think truffles, foie gras, walnuts, duck, local goats cheese. 
The best way to understand the appellations? Simply taste the different wines from the different areas and discover your favourites.